Main content starts here, tab to start navigating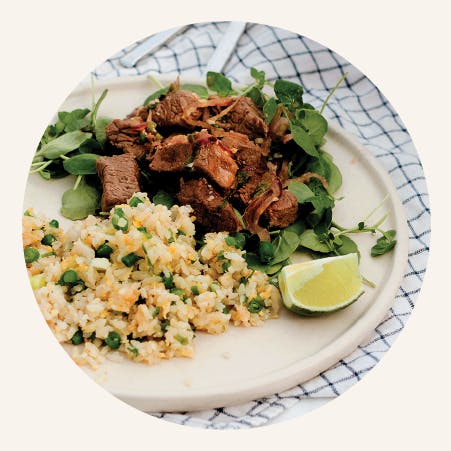 Shaking Wagyu Beef
Meal (Copy)
w/ Thai fried rice, carrot apple salad, & ginger dressing

SERVES 4 • STOVETOP • 40 MINUTES
instructions


Step 1

Preheat oven to 350° & prepare to cook on the middle rack. While oven is preheating, unpack all your "mise en place" (ingredients).



Step 2

Heat the sauté pan until almost smoking hot. Add oil to the pan, reserving a small amount for the fried rice, than add the beef tenderloin in a single layer. DO NOT TOUCH the beef until a brown crust has formed on one side. Once the beef is seared, add the onion mix & start shaking the the pan, or use tongs or a spatula to stir the beef. Once the onions start to wilt, add the shaking beef sauce & continue to shake or stir until the sauce is thick & coats the beef. Keep shaking until the butter is melted & everything is combined evenly.



Step 3

Turn the burner down to medium-high heat & place a second sauté pan on the stove. Place the remaining amount of oil into the pan. Once the oil is hot, transfer the fried rice to the pan. Shake the pan of rice or use tongs or a spatula to continuously stir the rice. When the rice is hot & somewhat crispy, remove from heat & place in a warm bowl.



Step 4

Slice & core the apple. In a large bowl, add the mixed greens, carrots, & apple. Gently toss with the ginger dressing until the greens are thoroughly coated. Cut the lime into wedges & serve with the shaking beef, hot rice, & finished carrot ginger salad. Enjoy!